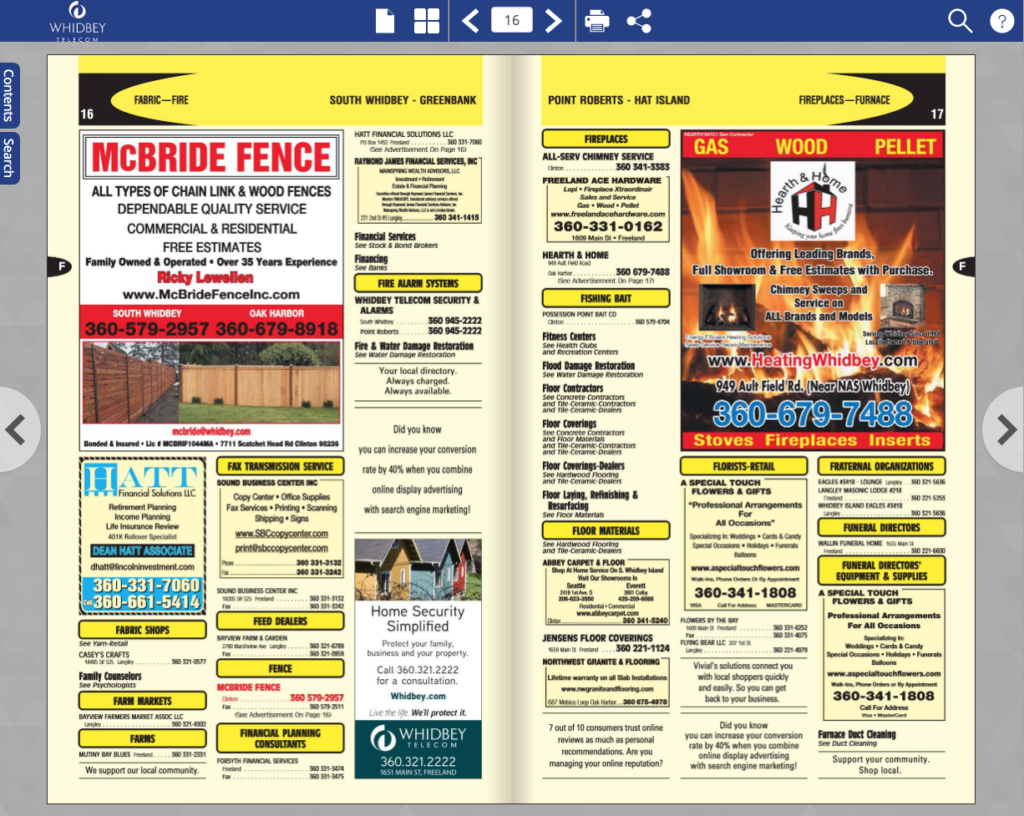 Whidbey Telecom Online Directory
View the most recent Whidbey Telecom Phone Book
For Area Codes 360 & 564: South Whidbey / Greenbank / Point Roberts / Hat Island.
Includes searchable white and yellow pages, emergency info, phone service tips and calling features, U.S. and international area codes, government listings, PLUS community and newcomer info.
Dial 411 – 24/7 Access to Phone Directories
Dialing 411 from your Whidbey Telecom landline will automatically connect you with Directory Assistance where you can request listings for both local and nationwide numbers. For Whidbey Telecom residential customers, the first local listing request is free during each billing cycle. Subsequent local listing requests are billed at a per-call rate.
Washington Relay Service
The Washington Relay Service is a free service provided by the WA State Office of the Deaf and Hard of Hearing (ODHH) ensuring equal communications access to the telephone service for people who are deaf, hard of hearing, deaf-blind and speech disabled. This service allows hearing callers to communicate with text-telephone (TTY) callers and vice versa through specially trained Communication Assistants (CA's). Access to these services is available through the 711-dialing code. Calls can be made to anywhere in the world, 24 hours a day, 365 days a year with no restrictions on the number, length, or type of calls. All calls are strictly confidential, and no records of any conversations are maintained. Anyone wishing to use Washington Relay Service for TTY or Voice calls simply dials 711 to connect with a CA. The CA will dial the requested number and relay the conversation between the callers.
Additional information can be obtained about the Washington Relay Service at: www.washingtonrelay.com or by calling 1.800.676-3777 TTY/Voice or 1.800.676.4290 TTY/Voz (Spanish).
Operator-Handled Calls*
Operators may assist with certain types of calls. These include:
Collect calls – the person or firm you're calling agrees to pay the charge
Third-number-billed calls – you place a call which you want billed to another number (in some cases, third-number billing requests are subject to verification)
Person-to-person calls – when you want to talk with a particular person or extension (rates are higher than a station to station call, where you are willing to talk with anyone who answers, even if you agree to talk with an alternate person)
Conference calls – when you want to talk with people in different places at the same time (a special charge applies to this type of call)
Time and charges – when you want to know the cost for a long distance call upon the call's completion (you need to request time and charges from the operator before call begins)
Information and Tips for Phone Service Customers
Find information in the current print directory about Ordering Services, Local & Long Distance Calling, Lifeline and Tribal Link-Up Programs, Billing, Complaints & Disputes, 900 Number Blocking, and WA Relay Calling Assistance.
Is Your Business Directory Listing Up to Date?
Please call your local Whidbey Telecom team to make changes and updates to your local directory listing.
South Whidbey 360-321-1122
Point Roberts 360-945-1122
*Operator-Handled Calls are available but not handled by your local Whidbey Telecom Call Center.